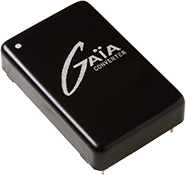 GAIA Converter is pleased to release the HUGD-300, a new front-end accessory to sustain input voltage drop for critical on-board applications.
The HUGD-300 helps designer to reduce drastically size of bulk capacitor to sustain the necessary 50ms or 200 ms hold-up time to save their data.
The HUGD-300 is designed for applications up to 300W power in a very small package 1 inch x 1,5 inch.