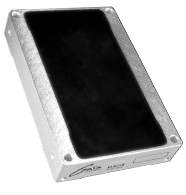 GAIA Converter, has introduced at Electronica 2010 a state of the art 200 watts output DC/DC converter family featuring 'Heat Path on Side' cooling, redefining power converter heat dissipation.
The new GAIA Converter 200W series has been optimized to allow heat dissipation on the side enabling cooling to take place alongside electronic circuit boards, removing the need for a heatsink, reducing system weight and profile and simplifying mechanical assembly.
The GAIA Converter 200W series has been designed to address power requirements in the range of 200W to 1KW in high reliability applications by offering high efficiency, up to 91%, and simple power sharing without extra components.
GAIA Converter 200W series features ultra wide input ranges of 9-60Vdc, 12-100Vdc and 33-180Vdc allowing multi-battery easy use. A choice of single standard output voltage is available typically 3.3, 5, 12, 15 or 24Vdc.