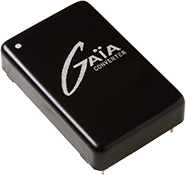 GAIA Converter is pleased to introduce an ultra compact transient/spike suppressor module designated LGDS-300-O-K.
The LGDS-300-O-K is rated to sustain transient up to 100V and spike up to 600V to comply with MIL-STD-704, MIL-STD-1275 and DO-160 standards.
Housed in a 1"x1.5" format, it provides without any heatsink up to 300W power. The LGDS-300-O-K offers an unprecedent flexibiliy and easy-to-use solution to designers for complex power supply design.