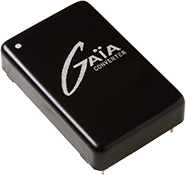 ELECTRONICA 2006 :  GAIA Converter is pleased to introduce it's new EMI filter module to meet the most severe requirements of MIL-STD-461 revision C, D and E. This ready-to-use module referenced FGDS-2A-50V can be connected in front of any combination of GAIA Converter DC/DC products.
The module is designed in a DIL24 size and allows an input current up to 2A, a permanent input voltage up to 50 Vdc with transient up to 100 Vdc.
For more information please consult datasheet FGDS-2A-50V.