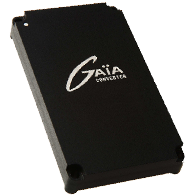 GAIA Converter is pleased to introduce a new family of 35W module with wide input range 9-36 Vdc, 18-75 Vdc and 36-140 Vdc. Existing in single, dual and triple output from 3.3VDC up to 24VDC the family covers a wide range of applications where variable input voltage and transient are prevalent making them ideal for on-board systems.
The module feature an LC input filter, a permanent short circuit protection and a soft start to avoid inrush current. The module is packaged in a standard 3'' x 2'' x 0.5'' metal case and is fully potted to ensure excellent thermal characteristics over the -40°C/+71°C ambient operating temperature range.

GAÏA Converter offers today a wide choice of more than 3.500 DC/DC converters from 4W up to 30W power, from 4.5V up to 140V input range and 3.3V to 48V output possibilities.