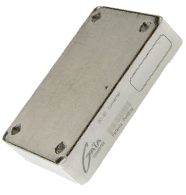 GAIA Converter is pleased to introduce a new family of high-density 75W module with ultra-wide input range (5:1) 9-45 Vdc, 16-80 Vdc making them unique on the marketplace compare to existing (2:1) products.  This family of product has been designed for applications where variable input voltage and transient are prevalent making them ideal for on-board systems.

The module is housed in a standard 1/4 brick package with a metal case and is fully potted to ensure excellent thermal characteristics over the entire -40°C/+105°C baseplate temperature range. The module is working at a fixed switching frequency and includes advanced features such as independent safety functions, trim, external synchronization......

GAÏA Converter offers today one of the widest choice of DC/DC converter with more than 3.500 references from 4W up to 150W power, from 4.5 V up to 150 V input range and 3.3 V to 48 V output possibilities.