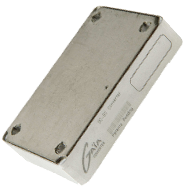 Gaia Converter releases a new family of high input voltage DC/DC Converters targeting
Avionic, Aerospace, Military and Missile applications:
With 155-480V input voltage range, it is ideal for 270V DC input bus or on 380V after an AC-DC rectification. And available in 3.3V, 5V, 12V, 15V or 26V single outputs, the MGDS-155 series is capable of delivering up to 155W in the ¼ brick industry standard package. All have ±10% voltage trim capability, are fully protected, can be synchronized and paralleled and do not use optocouplers in the feedback loop.