Dimensions : 40 x 26 x 12.8 mm

Features:

• Compact spike suppressor dedicated for Rail/Industrial applications up to 50W.
• Spike suppressor module compliant with
     - EN50155 level 1.800V
     - RIA12 level 8.400V
• Transient suppressor module compliant with
     - EN50155
     - IEC 571
     - RIA12
• Input reverse polarity protection
• Integrated EMI filter EN55022 class A
• Inhibit function
Description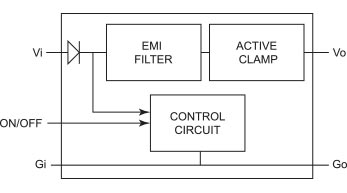 The Gaia Converter LGDSI-50 Series designates an active power front-end module designed to completely protect electronic systems. It embeds spike/transient suppression, EMI filtering, reverse polarity protection and inhibit functions as needed in typical Railway & high end Industrial products.
The LGDSI-50 delivers an adapted output voltage compliant with Gaia Converter DC/DC range of modules. This line of module is optimized to provide high efficiency up to 98% over the whole power range up to 50W power.
Models:
Note: the LGDSI-50 was previously called LGDS-50. This change only affects the part numbering, there is no product change and all performances remain the same.

Gaia's LGDS-50 Industrial Grade offer operating temperature ranges of -40 to +95°C with input ranges typically required for Transportation / OEM / Industrial applications:
LGDSI-50-J-K : 10-36 Vdc permanent; 36 Vdc / 1 s & 85 Vdc / 20 ms transients; 1800 Vdc / 50 μs spikes
LGDSI-50-Q-K : 36-154 Vdc permanent; 165 Vdc / 1 s & 385 Vdc / 20 ms transients; 1800 Vdc / 50 μs spikes
Modes of Operation
The LGDSI-50 features 2 modes of operations as follows:
Normal operation:  Normal operation occurs when the input voltage is within the permanent range (10-36V for model J-K, or 36-154V for model Q-K).The LGDSI-50 is then operating in steady transparency state providing an output with a typical 1,5Vdrop-out voltage.
Transient and spikes operation:
The LGDSI-50 can sustain both a transient during 1s and 20 ms according to RIA12 or EN50155 requirements and high spike levels up to 1.8kV with 5 Ohms impedance and 8,4kV with 100 Ohms impedance to meet international input bus standards of EN50155, RIA12 or IEC 571.