Dimensions : 40 x 26 x 8 mm

Features:

• Ultra compact limiter/boost module, up to 50W
• Transient suppressor module 80V compliant with
    - MIL-STD-704A/D/E/F
    - DO-160C/D/E/F/G
• Transient suppressor module 100V compliant with
    - MIL-STD-1275A/B/C,
• Extended operation for voltage drop out
  and cranking down to 6V
• Inhibit function
Description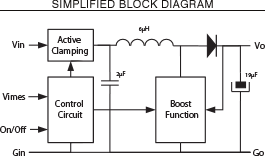 The Gaia Converter pre-regulator PGDS-50 series designates a low profile front-end power module designed to extend input bus voltage to meet system operation during voltage transients, spikes, cranking and drop out occurring in avionics or military systems.
The PGDS-50 delivers an output voltage adapted to Gaia Converter DC/DC modules. This line of module is optimized to provide high power efficiency up to 96% over the whole power range between 4W and 50W.
Models:
Gaia's PGDS-50 High-Reliability Transient suppressor / Pre-regulator is designed for higher operating temperatures of -40 to +105°C (optional -55°C) for typical military & airborne applications:
• PGDS-50-N-K : 17-37 Vdc permanent; 10 Vdc / 30 s brown out; 80 Vdc / 100 ms transient; 600 Vdc / 20 μs spikes
• PGDS-50-O-K : 12-37 Vdc permanent; 6 Vdc / 1 s brown out; 100 Vdc / 50 ms transient; 600 Vdc / 20 μs spikes
Available Options (see specs for details):
• T = -55°C Start-Up Temperature
• S = Screening & Serialization
• L = Leaded Process
Modes of Operation
The PGDS-50 features 4 modes of operations as follow:
Normal operation: Normal operation occurs when the input voltage is within the permanent range (12-37V for model O-K, or 17-37V for model N-K). The PGDS-50 is then operating in steady transparency state providing an output following the input voltage.
Low line operation: Low line operation occurs when the input bus voltage drops down below the permanent input voltage range of the DC/DC converter, then the PGDS-50 operates in «boost» mode to provide an output voltage compatible with DC/DC converter. The PGDS-50 series can sustain low line operation down to 6V/1s (Model O-K) or 10V/30s (model N-K).
Transient operation: The PGDS-50 series clamps input transients up to 80V/100ms or 100V/50ms. The PGDS-50 series is compliant with the inter-national input bus standards:
MIL-STD-704A/D/E/F,
AECMA EN2282,
GAM-EG13B/AIR2021E,
DO160C/DE/F/G 
MIL-STD-1275A/B/C.
Power fail operation: An under-voltage lock-out stops operation and disables the «boost» mode for voltage below this low line operation.