Dimensions : 40 x 26 x 12.8 mm

Features:

• Compact spike suppressor for Rail/Industrial applications up to 75W.
• Spike suppressor module compliant with
- EN50155 level 1.800V
• Transient suppressor module compliant with
- EN50155
• High Efficiency (98%)
• Inhibit Function
• Integrated EMI filter EN55022 class A
• Inhibit function
Description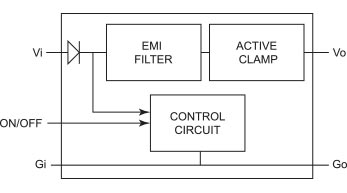 The Gaia Converter LGDSI-75 Series designates an active power front end module designed to completely protect electronic systems. It embeds spike/transient suppression, EMI filtering, reverse polarity protection and inhibit functions as needed in typical Railway & high end Industrial products.
The LGDSI-75 delivers an adapted output voltage compliant with Gaia Converter DC/DC range of modules. This line of module is optimized to provide high efficiency up to 98% over the whole power range between 4W and 75W power.
Model:
Gaia's LGDSI-75 Industrial Grade offer operating temperature ranges of -40 to +95°C with input ranges typically required for Transportation / OEM / Industrial applications:
LGDSI-75-Q-K : 43-154 Vdc permanent; 165 Vdc / 1 s & 176 Vdc / 100 ms transients; 1.8kV / 50 μs spikes
Modes of Operation
The LGDSI-75 features 2 modes of operations as follow :
• Normal operation: Normal operation occurs when input bus line is in steady state permanent range. The LGDSI-75 is then operating in steady transparency state providing an output with a typical 1,5V drop-out voltage.
• Transient and spikes operation: The LGDSI-75 can sustain both:
     - transient during 1s according or EN50155 requirements
     - high spike levels up to 1.8kV with 5 Ohms impedance and 8.4kV with 100 Ohms impedance to meet input bus standards of EN50155.
3D/Step Files
Mechanical Drawings, 3D/Step files:
Products
Animated
3D Model
3D Model
Drawing
LGDSI-75
 PDF
 STEP
Note: The LGDSI-50 and LGDSI-75 products are using the exact same package and pin outs, their mechanical files (pdf and step are identical too).
If download of a step file does not start, or does not work, right click on the link to directly save or download the target file.