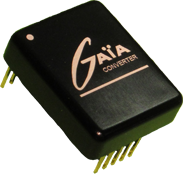 Releasing today a new member of it's MGDD21 Series : MGDD-21-N-CE with double isolated outputs 5V and 12V.
The MGDD-21-N-CE with it's ultra wide input range 9-60 Vdc permanent and transient up to 80Vdc/100ms is ideal to suit avionics/defence applications.
With it's output flexibility of 2 different isolated voltages 5V & 12V and easy configurability, it can cover a large variety of needs.